Jenaia Nicole & Damon Byrd, II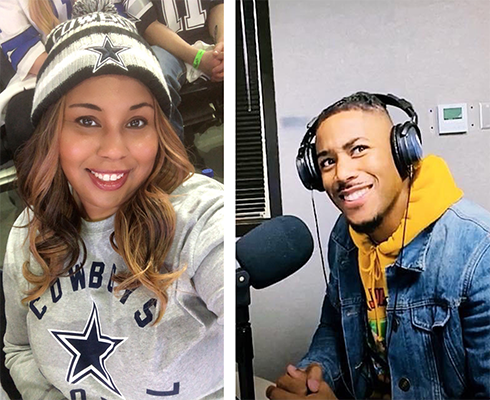 Sports By The Numbers gives you the most entertaining look at the numbers behind the sports we love to watch! Jenaia Nicole brings energy, fun and giveaways! Also get ready to listen as guests and fans have their sports knowledge tested by being put on the SBTN "HOT SEAT!" You'll definitely feel the heat! Although not personally a Cowboys fan, Jenaia recognizes and respects that she is in Cowboys territory. #Reppin4CowboyNationInSATX
As the first African American woman to host her own sports radio show in San Antonio, Jenaia is proud that her show premiered on MLK day. Jenaia's wish for you is Numbers 6:24 "The Lord bless you and keep you; the Lord make his face shine on you and be gracious to you; the Lord turn his face toward you and give you peace." (NIV)

Follow us with the links below or on Instagram at
www.instagram.com/sbtn930
Show Links:
---

Jenaia Nicole
Jenaia has been an NBA fan as long as she can remember. She loved basketball so much that she thought she was going to be the first woman in the NBA. She is from the Chicagoland area (Joliet, IL) and grew up during the Michael Jordan/Scottie Pippen era with the Chicago Bulls. She was more of a Pippen girl! Then Jenaia became fascinated with Shaquille O'Neil. She had his action figure, plaques of him in her room and Orlando Magic sheets. She felt he was just such a dominate player shattering backboards and tearing down rims. So when Shaq went to Los Angeles Lakers so did Jenaia. She is a Lakers fan through and through. She even lived in LA in 2010 and that is when she went to a Los Angeles Dodgers game and saw some women her age rocking LA Dodgers baseball hats; NEW ERA® 59FIFTY®. She thought to herself, "Bet, I can rock a baseball hat and look cute too." She shortly moved back to the Chicagoland area for a new job and the first two NEW ERA® 59FIFTY® baseball hats she purchased from Lids were LA Dodgers and Chicago White Sox. She grew up going to Chicago White Sox games with her mom. If you are from the Chicagoland area you know you have to pick a side lol! Northside – Chicago Cubs; Southside – Chicago White Sox!!! You already know what it is…..White Sox; everyday, all day! This is the one Chicago team Jenaia is truly loyal to lol!

Jenaia is such a huge sports fan she got married at U.S. Cellular Field at home plate. From there she knew she wanted to work in sports but was not sure how. Three weeks after getting married she moved to Texas and soon after to San Antonio. She volunteered at the UTSA football games in the press box as a Media Communications Runner. That lead to volunteering in a few UTSA men's basketball games, the Alamo Bowl and the Men's NCAA Final Four that was hosted in San Antonio. Then came her position as the Media Credential Will-Call Coordinator for the San Antonio Commanders. She also participated in a contest called Rock The Mic ESPN San Antonio was first runner up out of one hundred men. She was the only woman. After that competition she received a text message from a friend telling her that there was a spot open for a Media Communications Runner with the Houston Texans. She immediately interviewed and landed that job which she resigned due to her new media venture. Jenaia also worked for the San Antonio Spurs as a 50/50 Raffle Representative and last, but not least she interned at Sports2Nite; a local sports TV show. Now Jenaia is ready to focus on Sports By The Numbers and all the other assignments God has for her in 2021 and beyond.


Damon Byrd, II
Damon was born and raised in St. Louis, MO. He grew up with his mother Tracie and two younger siblings. Byrd's love for sports started at a young age, alongside his childhood friends who would always end up debating on who was the better player in the league. This extended to the physical aspect, where he competed in track & field, basketball and football. The latter being what struck his true passion and the start to his college football career which lasted 4 years. He competed around the world playing professional football as a wide receiver, kick returner and punt returner. Damon played from Kansas to Illinois to Germany where he ended his professional career with the German Football League. There he became a household name as a do it all threat on the offensive and defensive side playing as a wide receiver/cornerback. Some of his greatest achievements over the years include, being voted a standout performer at the NFL Combine (Baltimore Ravens), as well as Most Outstanding Player of the Year (GFL). During Damon's last two seasons in Europe, he ended it with a bang with a German Football League Championship for the Montabaur Fighting Farmers. While exploring his passions, Damon was able to fall into being an NFL analyst which came naturally due to his athletic background. This led him to becoming the co-host to the radio show Sports by the Numbers, beside his host Jenaia Nicole.