Robert & Mary Carey and Rudy Maxa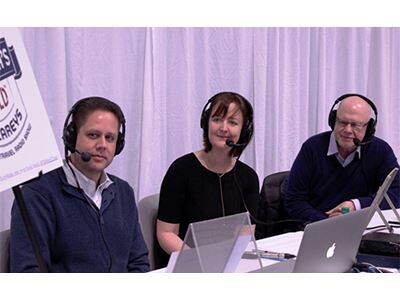 Take flight with America's #1 Travel Radio Show, the RMWorldTravel Connection, hosted by Robert & Mary Carey and Rudy Maxa, and experience the results that this winning program and brand delivers! Informative, Entertaining, Fast-paced, Contemporary and Interactive — the show combines timely travel news, topical talk, high-profile guests, industry decision makers, audience engagement, tips/trends, honest commentary, straight-forward advice, inside scoop, fun and entertainment, and so much more!
Your RMWorldTravel Connection features show creators and married travel commentators Robert & Mary Carey, along with journalist Rudy Maxa. Together, the 'Travel Trio' easily connect with the audience and skillfully cover the world of travel, culture and its allure through modern segments, on-location remote broadcasts, etc. Combined, they offer unmatched experience, unparalleled insight and unique understanding into travel, trade, tourism and dozens of related industries.
Show Links:
---


Hosts – Robert & Mary Carey
Experienced Travel Commentators & Passionate Travelers, Show Creators and Successful Business Executives … Robert & Mary Carey serve as hosts of RMWorldTravel with Robert & Mary Carey and Rudy Maxa, having created America's #1 Travel Radio Show back in 2004. Robert is an accomplished CEO and leader who's successful built several entrepreneurial companies and he's also served as an Executive with Disney/ABC, while Mary has enjoyed a successful career in business and education. Together, as experienced world travelers, each week The Careys interview top industry guests and travel influencers, showcase leading destinations/experiences, offer first-hand commentary and respected insight, as well as provide timely travel tips, trends and more — both on-air and online. They also own and direct the parent company behind RMWorldTravel's national syndication activities that are associated with the popular award-winning program and its connected platforms. Traveling the globe for more than 4 decades, Robert & Mary offer engaging insight into luxury and business travel, culture, entertainment, food/wine, theater, museums, family travel, adventure, sports, outdoor activities, etc. — bringing their own unique travel chemistry, sense of adventure and contemporary flair to show fans/followers via all RMWorldTravel platforms.
Co-Host – Rudy Maxa
In addition to his role as co-host on America's #1 Travel Radio Show – RMWorldTravel with Robert & Mary Carey and Rudy Maxa, Rudy can been seen on the television show "Rudy Maxa's World" and the "Smart Travels" series on PBS, Travel Channel and AXS-TV. He previously hosted the "Savvy Traveler" radio program heard on NPR. He's the voice of National Geographic Traveler's "Walks of a Lifetime" podcasts and has served as contributing editor with National Geographic Traveler magazine. He served 13 years as investigative reporter/columnist with The Washington Post, 9 years with the Washingtonian, and 2 years as bureau chief with SPY magazine. He's contributed to GQ, Worth, Forbes, Modern Maturity, USA Today, Town & Country Travel, The Los Angeles Times, USAToday.com and more.