Call the show at 844-844-3388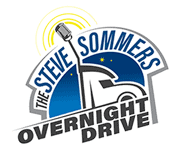 Steve Sommers is LIVE! five hours every weeknight with his call-in talk show — a continuation of a family legacy that stretches back decades.
Steve Sommers began his radio tutelage at a young age, and eventually earned & inherited the reigns of the largest syndicated overnight radio program in America, The Truckin' Bozo show, when his father, Dale Sommers, retired in 2004. For the next 16 years Steve solo hosted the program from the studios of the midwestern blowtorch, 700 WLW, which on a good night, reaches a large portion of North America.
If you've listened to the radio at night, odds are, you've listened to Steve Sommers.
Show Links:
---
Steve Sommers started in radio at the age of 15 at a station in Cincinnati, Ohio. He would eventually work his way up to play country music on the radio, something he always wanted to do. Sommers finally got that opportunity at 96.5 The Beaver. He then moved on to Chattanooga, TN at 97.7 WFLI AM, then back to Cincinnati for a short stint. Sommers first morning drive came after moving to Georgia. He started working for an HVAC company before taking a job at WQMT in Dalton, where he would stay for the next five years.
Sommers then had the opportunity to go back home to Cincinnati in 1996 as a producer for his father, Dale "Truckin Bozo" Sommers and weekend host. In 2004 his father would retire, and Sommers took over full time as the host. They changed the name of the show to the America's Truckin Network.
After nearly 25 years with 700 WLW, Sommers is now with Hot Shot's Secret and the Steve Sommers Overnight Drive.